These organizations offer their employees Spot Coaching membership
A powerful tool on the new world of work.
Spot Coaching focuses on clarifying current challenges on an ad-hoc basis. Your employees have a quick and easy resource helping them work out new options, and don't have to dwell on unresolved problems.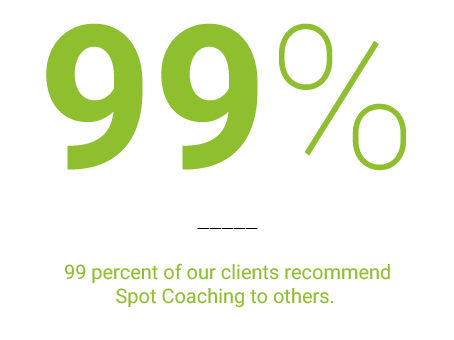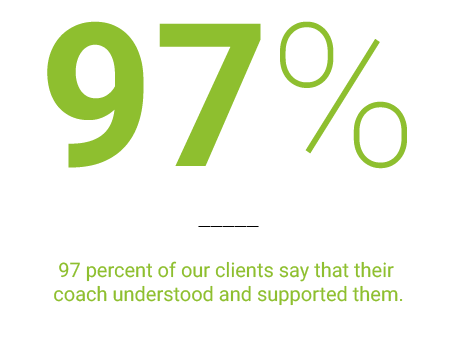 Independent and experienced experts guarantee smart ideas and inspiration.
All our experts are experienced coaches and organizational developers with academic training who have worked in management roles within organizations. Only Spot Coaching offers this unique expertise.
Early clarification helps create solutions and boost well-being.
Spot coaching is also a comparatively low-cost preventive measure: the opportunity to talk in a neutral, discreet, and protected environment boosts your employees' resilience.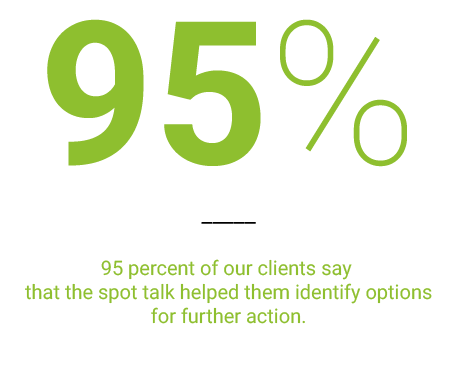 Spot Coaching can support companies, associations, NPOs, training institutions, and administrations. Including you. It's very straightforward.
1. Register your organization
Request a non-binding quote.
2. Inform your employees
You send your selected group of participants an email with a link to register.
3. Pay-per-use
You only pay for the calls actually made.
4 Reporting
We keep you informed about how your people are using and rating our offering.
5 Absolute discretion
We don't disclose any information on who has spoken to our experts on what matters.
Accelerate change.
People who have clarity on their own options and limitations can resolve difficult situations more quickly and actively shape change – creating space for new things.
Seize opportunities.
During the process of reflection interrelationships are quickly recognized and new connections between different pieces of information are made. People gain new insight and are able to make difficult decisions. This boosts self-confidence.
Provide better support.
Clarifying a situation has a liberating effect and activates resources. The leadership hotline enables you to offer your employees more professional support. That pays off.
Neutral observation – fresh ideas.
With so much time pressure, change, and complexity, today's world of work stretches your employees to the limit. There are moments when they get stuck in a mental rut and have no one to talk through the situation with them.
The problem is that acting too quickly without reflecting or being weighed down by unresolved issues on your mind for too long reduces the chances of finding smart and successful solutions. This is where Spot Coaching's leadership hotline comes in.